Recently, I have been craving many things, whether it be books, sweets, or food. One of them is Filipino food! Of course, nothing else can beat the cooking of one's homeland dishes. I thought it would be interesting to share with you my favourite foods from the Philippines! Who knows? It might be something you can add to your bucket list to try!
Sinigang 
It's funny how I'm eating sinigang as I'm writing this. Sinigang is a savoury-sour soup (or stew). It is most often associated with tamarind, although it can also use other sour fruits or leaves as a souring agent. It comes in different variations! The ones I grew up with were pork and fish, sometimes prawns. My mum had just told me that the Tagalogs sometimes have it with chicken (which I find slightly odd!).
Sinigang has always been my favourite dish ever since! I always loved to nibble on radishes and okras! Sinigang is definitely good during the colder seasons, but it is equally enjoyed during the warmest months. 
Menudo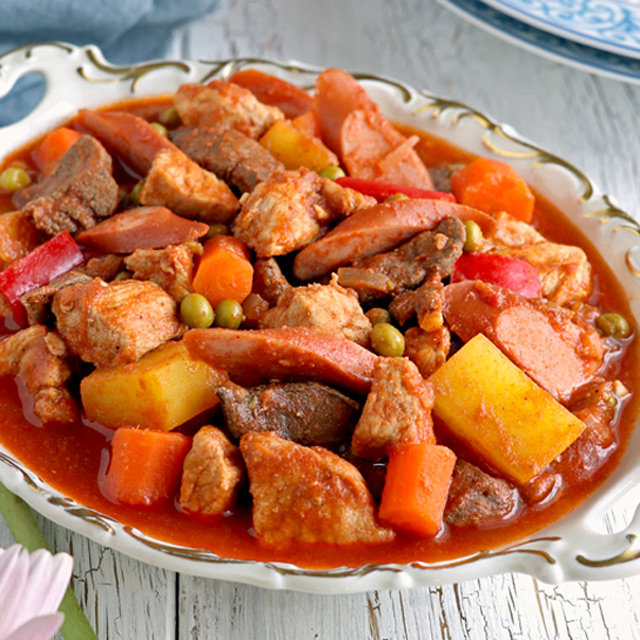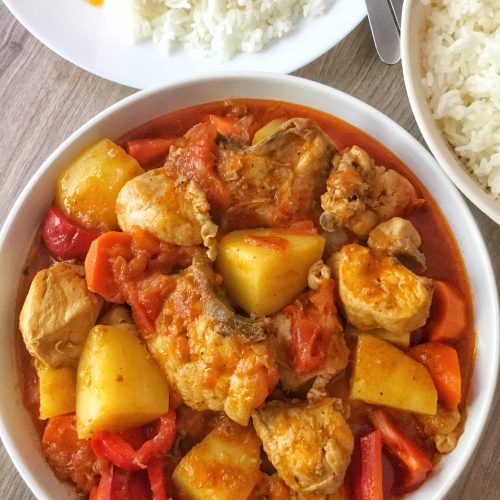 … Or Afritada… Or Kaldereta…
Menudo is a stew made with pork and sliced liver in tomato sauce, with carrots and potatoes. The only main difference between Mexican menudo and ours is that we don't use tripe or red chilli sauce.
Afritada on the other hand is quite similar. It also consists of carrots and potatoes, but this time, red and green bell peppers are added. The tomato sauce is braised with either pork, beef or chicken.
Lastly, kaldereta… It is a goat meat stew, and other variations include beef, chicken or pork. And as you may guess correctly, the vegetables consist of tomatoes, potatoes, olives and bell peppers. It's one of my favourites because not only do they taste delish, but they're also quite easy to cook!
Spot-the-difference is getting quite difficult in here… 🧐
Kare-kare 
Ohhh, you don't know how much I adore this food! Kare-kare is a stew (I know, we Filipinos love our stew dishes! LOL). It features a thick savoury peanut sauce. Yep, peanut sauce. It is generally made from a base of stewed oxtail, beef tripe, beef stew meat or other various cuts of pork. My mum is an expert on this dish! If anyone was to bring kare-kare to a family function, she's already on it!
Bulalo
Lastly, bulalo is a beef dish. It is a light colour soup that is made by cooking beef shanks and bone marrow until the collagen and fat have melted into the clear broth. It includes leafy vegetables, or most notably corn on the cob, scallions, onions, garlic, ginger and fish sauce! Just like sinigang, bulalo is one of the staple soups that one has during rainy seasons.